[Full automatic] CDM Tester | Model 550 series

CDM Tester Model CDM-550 Series
CDM-550D/550DQ/550FQ/550DFQM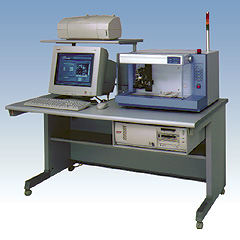 Charged Device Model (CDM) is to simulate a discharge to metal from any metal terminal of a charged electronic component or from a small metal tool held by a charged human body to metal terminal of an electronic component. CDM discharge causes very fast charge transfer, and then component is damaged by the voltage stress. The CDM test system analyzes the robustness of component against CDM stress. Model 550 optionally includes robustness measurement refer to total amount of discharged charge, addition to robustness measurement refer to charged voltage. Fully automated CDM test may be available if optional DC test with test heads is specified.
Model CDM 550D
Direct charging CDM Test System that is popular in Japan.
Model CDM 550F
Field-Induced CDM Test System that is widely used in the world.
Features/Functions
Meets JEDEC, EIAJ and ESDA specifications
Direct charging CDM Test (Model 550D Series)
Field-Induced CDM Test System (Model 550F Series)
Direct charging and Field-Induced CDM Test System (Model 550DF Series)
Stable and repeatable discharge waveform
Easy positioning between DUT pin and contact tip
DUT capacitance measurement at high charged voltage
Damage charge or damage energy can be measured
Up to 10 DUTs on DUT jig
BGA and TCP tested easily
Relay discharge available
Network operation

PAGE TOP
<<Before page
If you have any questions, etc., please do not hesitate to ask.