[Full automatic High-Pin-Count] ESD/LATCH-UP Test System | Model 7000X

ESD/LATCH-UP Tester Model 7000X
ESD Tester Model 7000X-E
LATCH-UP Tester Model 7000X-L
ESD/LATCH-UP Tester Model 7000X-EL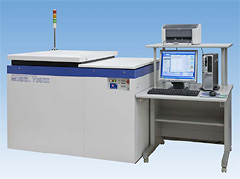 HBM and MM test are the major ESD test for the semiconductor reliability. Also, the latch-up test may not be avoided on the CMOS devices. M7000 series is the system to support these requirements to meet world wide standards.

Features and Functions
Meeting MIL,EIA/JEDEC,JEITA,AEC,ESDA standards
System pin count up to 1024 pins
Max DC current of system pin:4A
Up to 10 DUTs on a DUT board tested
Diagnostics of the system and waveform
Optional 5 years warranty
Safety functions
ESD Functions
8kV HBM Max
High Speed Zapping Mode available
Various PIn Combination test
Damage Detection by high precision V/I meter
High Speed damage detection (Option)
Latch-up test functions
Uo to 6 Latch-up Detection supplies
3 supplies for the Max-Hi/Min-Low and Vector pattern included
Additional external supplies (Option)
155℃ Latch-up test head available (Option)

PAGE TOP
<<Before page
If you have any questions, etc., please do not hesitate to ask.