[Simple and easy operation Model] ESD/CDM Simulator | Ecdm-100EC/400EC/800EC

ESD/CDM Simulator and options
Model Ecdm-100EC/400EC/800EC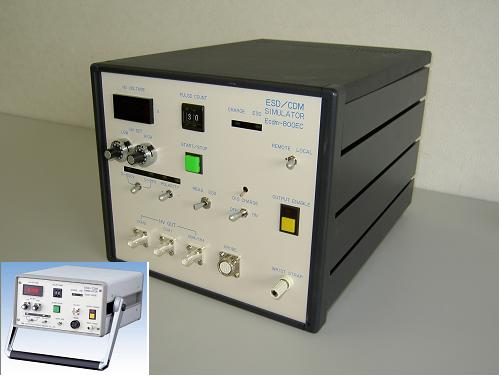 Ecdm Series is an inexpensive and manually controlled bench-top ESD simulator. By replacing an external probe or adaptor, every ESD event such as Human Body Model (HBM), Machine Model (MM) and Charged Device Model (CDM) including Field induced charge CDM (F-CDM) and Direct charge CDM (D-CDM) can be simulated.
If a Transmission Line Pulse (TLP) test configuration is requested, very high current V-I curve tracing as well as robustness test is done by narrow square pulse.Combining with wafer stage and manipulators, wafer level test may be done.
Features/Functions
4 functions, HBM, MM, D-CDM and F-CDM by 1 instrument
ESD test and noise immunity test
Meets any ESD standards
Maximum voltage up to 1kV or 4kV or 8kV
Discharge waveform monitored available as an option
TLP test available as an option
Wafer test available as an option
Mobile Charge measurement available as an option

PAGE TOP
Options of Model Ecdm-100EC/400EC/800EC
HBM, MM, D-CDM, F-CDM, TLP probes

[HBM or MM probe]
[CDM probe, XY stage]


[AEC (ESDA) Air Discharge probe]
[Mobile charge measurement probe]

PAGE TOP
<<Before page
If you have any questions, etc., please do not hesitate to ask.